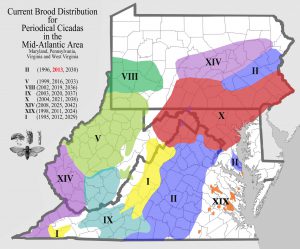 As of September 3, 2017, we are still hearing the following cicadas:
N. tibicen, N. auletes, N. lyricen, N. linnei, N. davsi and N. robinsoniana.
Neocicada hieroglyphica was last heard for the season on 2 August 2017.
Date:
2018-06-13 18:29:39
Name:
Paula L Helm
Location:
Auburndale Florida
Description:
Date:
2018-06-07 22:06:40
Name:
Matthew Gacheny
Location:
Port Deposit, Maryland
Description:
Periodical cicadas heard calling near Port Deposit, Maryland, Cecil County around 30 May 2018; periodical cicada nymphs also uncovered
Date:
2018-05-25 16:10:45
Name:
Douglas M Kolodny-Hirsch, Ph.D.
Location:
Pikesville, Maryland 21208
Description:
One newly emerged adult periodic cicada on recently planted Inkberry Holly. Wings fully expanded.
Date:
2018-05-25 03:21:30
Name:
E.Taylor
Location:
Rockville, MD
Description:
kids on insect study found a periocdical cicada (red eyes/yellow-gold wing veins ) in meadow
Date:
2018-04-21 17:29:17
Name:
Bo
Location:
Pinole Regional Park, CA
Description:
Massive Cicada Singing